The fountain
Competitive sports
State of Hessen Championships Athletics
State of Hessen Champion Breakdance
German Championships Basketball
Vice European Champion Jazzdance
Third black belt Kyeok-Too-Ki
Master: sword, short stick, long stick, fan
Instruments
piano
drums
ney-flute
didgeridoo
Pop singer (pseudonym)
among others official Olympic compilation 2004
together with
Queen | Simply Red | Sarah Brightman | Snap | Europe
Opera- / Concert Singer
"exceptionally ... The German-Turkish bass sings "Schweig, schweig...!" from Weber's "Freischütz". From the classic number then it goes into an imaginative interpretation of Gershwin's "Summertime". Cara holds nothing on stage. He prances along the corridors, buttoned his shirt, drops the coat. The crowd is cheering."
INTERNATIONAL SINGING COMPETITION "NEW VOICES" BERTELSMANN FOUNDATION
NDR-RADIOPHILHARMONIE / NIEDERSÄCHSISCHE MUSIKTAGE
Richard Wagner : "Götterdämmerung"
(Concert: recording and transmission ARD)
et. al. Conductor: Eivind Gullberg Jensen | Siefried: Andreas Schager | Hagen: Selcuk Cara | Alberich: Wolfgang Schöne
"Selcuk Cara as truly powerful Hagen with multi-faceted, highly musical singing. It was understood at Selcuk Cara every word and obviously he knew what he was singing because his voice seemed inspired."
DER NEUE MERKER / WIEN

"[...] Outstandingly the bass Selcuk Cara, who is making his debut as Hagen here fascinated the listeners [...] Selcuk Cara has delivered a brilliant debut performance."
OPERNNETZ

"Among the numerous members of the ensemble, Selcuk Cara is to be mentioned at first because of his enormous stage presence."
NEUE PRESSE
BEETHOVENHALLE / BEETHOVENFEST BONN
Ludwig van Beethoven : "Symphonie Nr. 9"
(Recording and transmission DEUTSCHE WELLE)
et. al. Tenor: Andreas Schager | Bass: Selcuk Cara
"[...] Singular: Turkish-born bass-baritone Selcuk Cara. Beethovens message "Alle Menschen werden Brüder / All men become brothers", unequivocally pure."
DEUTSCHE WELLE
THEATER AN DER WIEN / ORF RADIO -SYMPHONIEORCHESTER WIEN
Carl Maria von Weber : "Der Freischütz"
et. al. Conductor: Bertrand de Billy | Max: Simon O' Neill | Kaspar: Selcuk Cara | Agathe: Elza Van den Heever | Ännchen: Mojca Erdmann | Samiel: Karl Markovics
"Selcuk Cara, performing Kaspar with his immense stage presence and outstanding voice..." ORF - Cultural editorial office

"[...] Selcuk Cara as Caspar dominates the scene vocally and theatrically perfect. [...]" KRONEN ZEITUNG

"...The discovery of the premiere is the young Selcuk Cara, who makes Kaspar to a diabolic seducer by his threatening and versatile bass voice and his enormous presence." FRANKFURTER RUNDSCHAU

"The ensemble is carefully selected, it is homogeneously and harmonic. Outstanding: Selcuk Cara's demoniac, flickering Kaspar." ST. GALLER TAGBLATT

"... Kaspar with Selcuk Cara is casted perfectly. The singer is a tremendous actor as well." VORARLBERGER NACHRICHTEN

"... The actors perform better than their singer colleagues, who are inevitably fixed by the score. The exception is Selcuk Cara as Kaspar with his exceptional voice on that evening." ARD / SWR Cultural editorial office
Author / Writer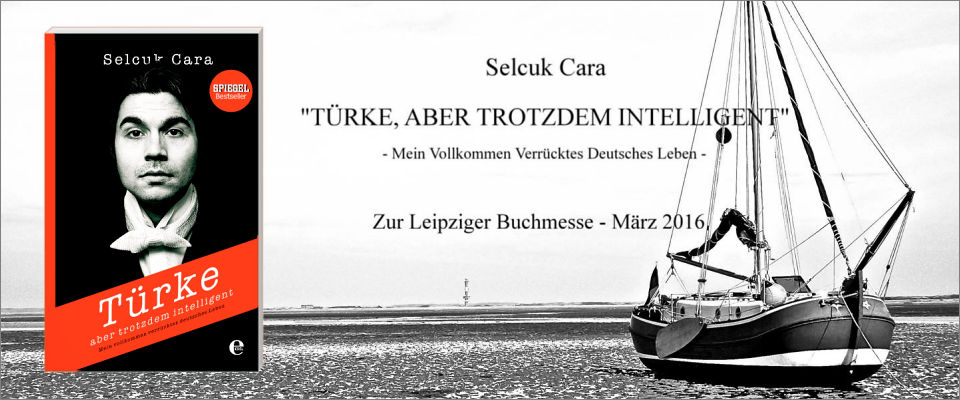 His autobiographical novel "Türke, aber trotzdem intelligent" (Turk, but still intelligent), is on the Spiegel bestseller list just two weeks after its publication.

In January 2017 the book was added to the library of the memorial and educational center "Haus der Wannseekonferenz" (Joseph Wulf Mediothek).
"Türke, aber trotzdem intelligent" becomes part of the library of the International Tracing Service (ITS). The holdings in the ITS archive are part of the UNESCO World Heritage.
Musicologist / Theater scholar
Working on dissertation on the topic: "The Ring of the Nibelung" .
Selcuk Cara already wrote his diploma thesis on Tristan and Isolde.
Film director